Making Monsters
Fred Zeppelins, Cork (2016)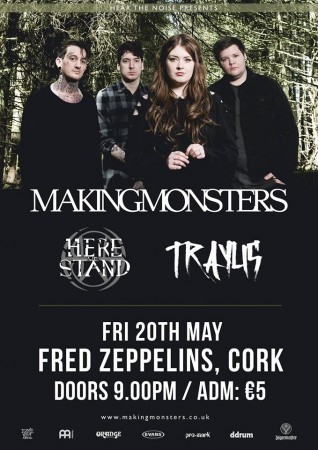 Editor Notes:
Hear The Noise Promotions are delighted to announce the return of Derry based alt-rockers Making Monsters. Covering everything from Alt-rock to metal/hardcore on the genre spectrum, these lads (and ladette) mean business.
On tour to promote the release of their long anticipated 2nd EP "Bad Blood" which will be available from 13th May.
Having played toured with the likes of Fightstar, Heart Of A Coward, Skindred (official) and more, Making Monsters are a well oiled machine spewing ferocious riffs, catchy hooks, and intense performances.
Also performing on the night:
Here We Stand – Cork based metalcore/post hardcore outfit. Known for intense live shows, catchy choruses and brutal breakdowns, on the verge of releasing their own second EP, These guys really know how to put on a show and with a home crowd this will be no different!
Trayus – Experimental metal from Limerick, featuring an Irish all star line up with past members of Emigra, Censura, iBurn and Aeternum Vale, Trayus have a wealth of experience despite being relatively new. Detuned riffs intertwine beautifully with melodic interludes to create a crushing mix of sounds to keep you off your feet!
This event took place on Friday, 20th May 2016 at Fred Zeppelins, Cork .
If you have any video links or photos, feel free to share them below.