Making Monsters
The Empire Music Hall, Antrim (2016)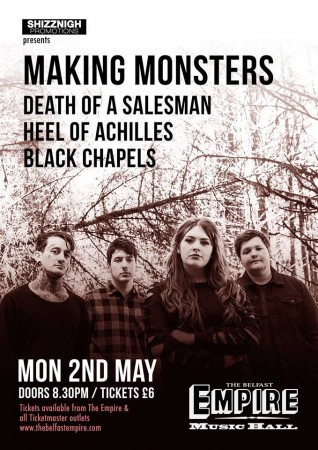 Editor Notes:
SHIZZNIGH presents
MAKING MONSTERS
Derry based four piece 'Making Monsters' have spent the last three years relentlessly touring the UK and Ireland with bands such as Young Guns, Silverstein, We Came As Romans, Max Raptor, Skindred, and most recently finished a full UK tour with Fightstar and Arcane Roots in Oct 2015. After the release of the 'Attention' EP they have followed up with three singles and accompanying music videos gaining extensive airplay on BBC Radio One, Across the Line and with their single 'Nosebleed' featuring on Kerrang!.
After racking up hundreds of gigs and substantial press they have secured endorsement deals with Jagermeister, Orange Amps, Ernie Ball, Peavey, Ddrum, Meinl and Pro Mark. Making Monsters are set to release their new EP in Spring 2016 via all major digital retailers.
DEATH OF A SALESMAN
"Death of A Salesman are a 5 piece Hardcore/Metal Band based in Belfast, Northern Ireland. Coming together in late 2010. Having made an instant impression on the Irish music scene the band were booked for a wealth of shows throughout the Irish club scene and began to make a name for themselves as one of the most energetic, relentless bands in Ireland. Their growing reputation earned them support slots with Heavyweights Asking Alexandria, Lamb Of God, Sylosis, Every Time I Die, Deez Nuts and The Dead Lay Waiting, as well as local heroes Hero In Error & Red Enemy. The band released their first demo in January 2011 to acclaim from fans both old and new, selling out of all physical copies within days of release.
In November 2011 the band entered the studio to record their second release "The Art Of Misdirection" released in Summer 2012
A relentless attitude to touring, and sheer determination has seen Death Of A Salesman gain momentum steadily throughout their career, and with this never say die approach, their momentum can only increase.
HEELS OF ACHILLES
We re a Metalcore/Progressive Metal band from Belfast. We are new to the scene and we hope to earn a place in modern day metal.
Members: Vocals: Patrick Scanlon Lead Guitar: Daire Turley Rhythm Guitar: Watsy Drums: Stephen McIlroy Bass/Backing Vocals: Andre Michoel Manager: Kevin McKenna
BLACK CHAPELS
Black Chapels are a 4 piece Alternative Rock band from Belfast, Northern Ireland. The band formed from the ashes of Irish band "The DMs" in 2015 after a successful year stint under the name.
Darren Miller – Lead Guitar/Lead Vocals,
Francis McNally – Lead/Rhythm Guitar,
Charles Knox – Bass,
Mark Miller – Drums
Doors 8.30PM
Tickets £6 – Pay at door!
This event took place on Monday, 2nd May 2016 at The Empire Music Hall, Belfast, Co. Antrim .
If you have any video links or photos, feel free to share them below.