IMA 5th Anniversary
Charlie's Bar, Fermanagh (2016)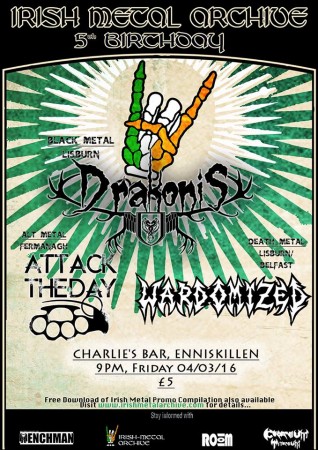 Editor Notes:
Has it been 5 years already!?
Exposing new Irish bands and dredging the depths of cassette collections to find old ones, the venerable Irish Metal Archive have been working tirelessly in support of the Irish metal scene for nothing other than their love of it!
2013 saw the release of their first compilation album "THE FIRST WAVE", which is free for download from bandcamp and featured tracks from nearly 40 bands from all over Ireland including local lads GARGANTUAN.
https://irish-metal.bandcamp.com/album/irish-metal-archive-the-first-wave-2013
To celebrate their 5th anniversary, they are working towards yet another compilation of Irish bands!
HELP US, HELP THEM TO GET IRISH METAL OUT THERE!!
Drakonis (Black/Death metal from Lisburn)
Attack The Day (Alt metal from Fermanagh)
Wardomized (Thrash Death from Lisburn/Belfast)
This event took place on Friday, 4th March 2016 at Charlie's Bar, Enniskillen, Co. Fermanagh .
If you have any video links or photos, feel free to share them below.