Death The Leveller
Fred Zeppelins, Cork (2017)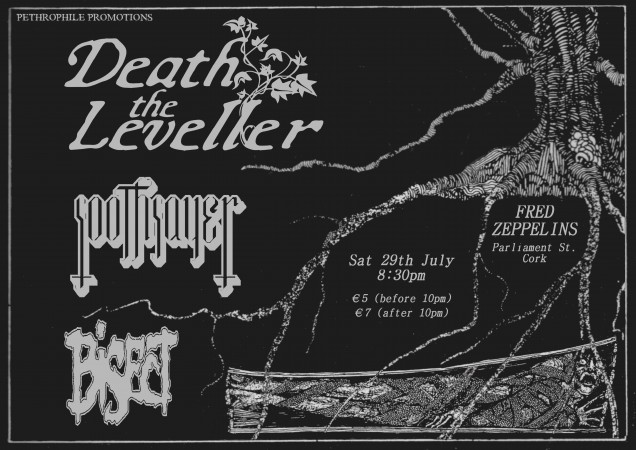 Editor Notes:
29th July 2017
Fred Zeppelins, Parliament St., Cork
Doors : 08:30pm
€5 before 10pm (early bird price)
€7 after 10pm
Epic Doom Masters DEATH THE LEVELLER, featuring former members from MEAL MÓRDHA and CURSED EARTH, will make their first live performance in Cork on the 29th July 2017.
Joining the Epic Doom Masters will be Cork's very own Atmospheric Doom Lords… The SOOTHSAYER, along with a hefty kick to the bollix from another of Cork's nastiest… BISECT.
*******************
DEATH THE LEVELLER…
http://www.irishmetalarchive.com/artists/death-the-leveller/
https://www.facebook.com/deaththelevellerdoom/
https://deaththeleveller.bandcamp.com/releases
Formed in 2016, when Ger Clince, Shane Cahill and Dave Murphy looked to start a new project following putting their previous band, Mael Mordha, on hold. They were joined by kindred spirit Denis Dowling (formerly of Cursed Earth) on vocals.
Creating darkly hypnotic Doom that takes you on a journey through the instinctual memory of mankind. The music and lyrics combine to open your mind to new possibilities of thought and deed.
Inspired by the Death-doom scene of the early 90s, Gothic rock and a variety of other diverse sources, DEATH THE LEVELLER's influences combine to produce doom metal that is at turns epic and introspective.
The band's name derives from the poem, 'Death the Leveller' by James Shirley (1596-1666) and reflects the band's desire to write music that faces the reality and mystery of life and death, without morbidity or fear. Their music seeks to explore the possibilities offered by a fleeting lifetime, with acceptance of the inevitability of death and the futility of seeking permanence in our earthly achievements, save only the possibility of the memory of righteous actions.
*******************
SOOTHSAYER…
http://www.irishmetalarchive.com/artists/soothsayer/
http://soothsayerdoom.wixsite.com/soothsayerdoom
https://www.facebook.com/soothsayerdoom
https://soothsayerdoom.bandcamp.com/
As the year 2013 drew to a close, Soothsayer began to take form. Rising from the ashes of Doom-Noise merchants Íweriú – Hughes, Doyle and Fahey sought to continue within a bleak nightmare, fuelled by frustration and paranoia. Recruiting O'Grady and Quinn to join them, The Soothsayer was given life. As the year 2014 began, Soothsayer made its first live appearance. Much of that year was spent honing their songs and sound, albeit with sporadic live performances, inflicting a Blackened, Doom-laden atmosphere upon all in their path.
Into the year 2015, Soothsayer entered a remote studio in rural Kerry to record their first demo. "The Soothsayer" was released later that year. In 2016, the band recorded their second EP with Eamonn Coleman, who handle the recording, mixing and mastering, recording the EP, done live with minimal overdubs. Soon after, Quinn left to pursue other projects and Rosa came into the fold as the new bass player. Signing with Transcending Obscurity Records, "At This Great Depth" was released on December 30th 2016.
Now the band pushes forward, expanding their sound and vision, continuing their journey through a surreal and sepulchral mindscape.
We are THE SOOTHSAYER…
*******************
BISECT…
http://www.irishmetalarchive.com/artists/bisect/
https://www.facebook.com/Bisect-477826922271974/
https://bisect.bandcamp.com/
BISECT is a band that formed during 2013 from the ashes of a Polish band that carried the same name. Based in Cork, the band currently is comprised of an international team of Irish, Polish and Italian musicians. Phil Langero (LOS LANGEROS) on the vocals, Kieran O'Neill on the drums, Maciek Lachmann on the bass and Fabrizio Vitali on guitar and backing vocals.
*******************
This event took place on Saturday, 29th July 2017 at Fred Zeppelins, Cork .
If you have any video links or photos, feel free to share them below.