Dark Arts Fest MMXVI
The Victoria Hotel, Galway (2016)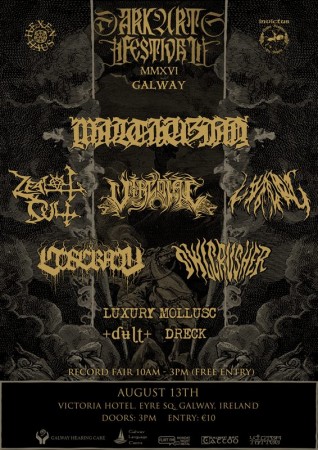 Editor Notes:
Hexen Haus in association with Invictus Productions present
Dark Arts Festival MMXVI:
Malthusian (black / death / doom)
VIRCOLAC (death)
Zealot Cult (total death)
Unyielding Love (noise / grind / hardcore / black / death … )
Coscradh (rotten black / death)
Owlcrusher (black / doom)
Luxury Mollusc (hash scrap metal oddball noise)
https://www.youtube.com/watch?v=ee2O7EOomCA
ɗʉɭʈ (horrible depths of dark noise / drone)
Dreck (harsh noise)
Accommodation:
Cheap accommodation at corrib village, far out but runs a free shuttle bus to town Campus accommodation
City Centre Hostels:
Sleepzone, Barnacles, Kinlay Hostel, Celtic Tourist hostel Woodquay, Galway City Hostel (has bar), Snoozles, Savoy Hostal, Salmon Weir Hostel
Camp: Salthill Campsite about 40min walk or €10 cab to Eyre sq. or 401 bus every 20min Cheapest local cab is Claddagh +353 91 588 434
******VENUE CHANGE******
Due to noise complaints during Galway arts and race week, management very kindly decided to cancel our booking In the Victoria Hotel Galway (a week before the show).
Given such short notice we were left with very few options in a limited timeframe, but Sally Longs rock bar has stepped in and agreed to let us run the event from 4.30pm.
This event will now be FREE admission!
Unfortunately Record Fair and Dreck noise act has to be canceled!
This event took place on Saturday, 13th August 2016 at The Victoria Hotel, Galway .
If you have any video links or photos, feel free to share them below.