Cellar Darling
On The Rox, Dublin (2018)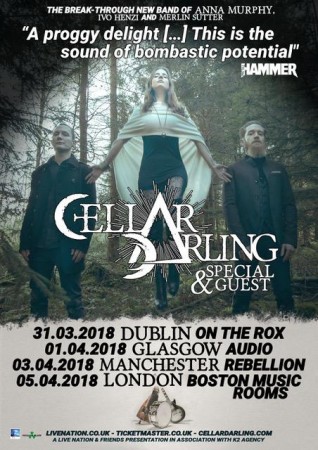 Editor Notes:
Having just recently wrapped up an extensive European tour with LACUNA COIL, Switzerland's New Wave Of Folk Rock trio CELLAR DARLING are excited to announce that they will be hitting the road once again! The band left quite an impression on UK audiences when they made their London debut last year playing sold out shows with DELAIN on the 'Danse Macabre Tour', so it comes as great news that they'll be returning for a run of shows across Ireland, Scotland and England in March/April. News on supports coming soon!
Of the upcoming tour, the band comments:
"We are beyond excited to announce our first headline tour visiting Ireland, Scotland and England! These are some of the most beautiful places in the world, and we feel a special connection to each of them. Ireland is Anna's second homeland, Merlin's year is never complete without his pilgrimage to the highlands and Isles – that's where they produce our favourite drink too! And of course some of the most important places in rock music history. It is about time that we bring our music over for an extended visit, after the incredible welcome we received at our first show in London last year! We can't wait to rock out with you all!"
– Anna, Ivo & Merlin
---
Cellar Darling tour dates:
31.03.2018 Dublin – On The Rox
01.04.2018 Glasgow – Audio
03.04.2018 Manchester, Rebellion
05.04.2018 London – Boston Music Rooms
Tickets will go on sale at 11am on Friday
For ticket links, keep an eye on the band's website
---
The band, comprising of ex-ELUVEITIE members Anna Murphy, Merlin Sutter and Ivo Henzi, released their acclaimed debut album 'This Is The Sound' on June 30th 2017 via Nuclear Blast. Comprising of an astounding 14 tracks, the record pulls listeners into an hours' worth of apocalyptic tales, heavy riffs and ethereal vocals. A real treat for the imagination!
As if that's not enough, the mediabook edition features 3 bonus tracks! Each band member chose a cover song to interpret in Cellar Darling's own, unique style; 'The Cold Song' from Henry Purcell's "King Arthur" opera, chosen by Anna, Tears for Fears' 'Mad World', chosen by Ivo and the epic Queen classic 'The Prophet's Song' – Merlin's all-time favourite. Also included in the mediabook is an alternative and limited cover artwork plus an extended 32-page booklet, filled with the band's notes on the stories behind their songs.
Order the Limited Edition Digibook CD (includes signed insert), here: http://bit.ly/2DxQ4X1
Order the Limited Edition Gatefold Black Vinyl, here: http://bit.ly/2DRjF0W
Order 'This Is The Sound' digitally, here: https://apple.co/2EcJJSf
Music videos from Cellar Darling: https://www.youtube.com/cellardarling
Listen on Spotify: https://open.spotify.com/artist/29TiA5JlE8qICyOYEvyvGR
This event took place on Saturday, 31st March 2018 at On The Rox, Dublin .
If you have any video links or photos, feel free to share them below.