Bloodshot Dawn
An Spailpín Fánach, Cork (2018)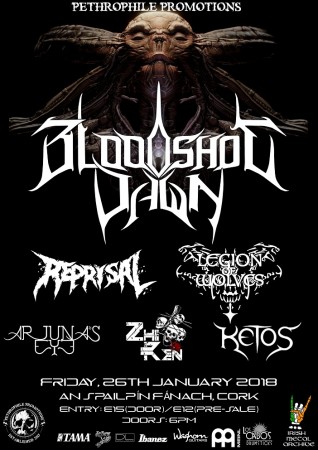 Editor Notes:
URBAN ASSAULT Warm-up Show!
BLOODSHOT DAWN (UK)
REPRISAL (UK)
LEGION OF WOLVES (IRL – Dublin)
ARJUNA'S EYE (IRL – Cork)
ZHI REN (IRL – Cork)
KETOS (NI – Belfast)

Date: 26th January, 2018.
Venue : An Spailpin Fanach, South Main St., Cork
Doors : 6pm (early start)
Admission: €15 (on the door) / €12 (pre-sale)
==============================
UK Melodic Death Metal giants Bloodshot Dawn are doing a UK and Ireland tour to showcase their third studio album "Reanimation".
Onboard for this tour is UK Thrashers Reprisal which I'm sure will tear Cork a new arsehole.
Dublin's Legion of Wolves will also be making their long overdue return to Cork in support of their upcoming new album, "Bringers of the Dark Sleep".
From Belfast… 5 piece melodic thrash metal outfit Ketos, making their first Cork appearance. And local support on the night is Cork's very own Arjuna's Eye, and Zhi Ren. Go on the lads!!!
==============================
ONLINE PRE-SALE TICKETS: €12 (Get 'em cheaper early)
TICKETS: http://irishmetalarchive.bigcartel.com/ … -2018-cork
This event took place on Friday, 26th January 2018 at An Spailpín Fánach, Cork .
If you have any video links or photos, feel free to share them below.