Axial Symmetry
The Cellar Bar, Galway (2016)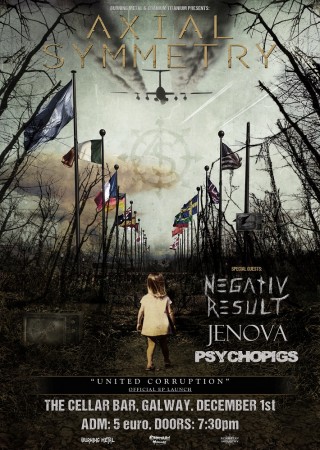 Editor Notes:

Axial Symmetry "United Corruption" E.P Launch…
Date 01/12/2016
Venue: The Cellar Bar, Eglington St. Galway
Doors at 7:30pm.
ADM €5
https://www.facebook.com/events/1754445041483968/
What started out as a two piece, AXIAL SYMMETRY, with their unique take on Death Metal, have now evolved physically and sonically into one of the most exciting Metal acts Ireland has to offer.
In late 2009 AXIAL SYMMETRY, composed of just Gavin Doyle and Matt O'Brien spent their early band years writing and recording a number of original songs and performing live as a two piece until 2014 when drummer Diego Rodrigues joined the band and in early 2016 Dave O' Reilly joined on bass duties which gave the band a complete line up.
AXIAL SYMMETRY have enjoyed some great festival appearances and earlier this year were one of the favourites in the run up to the Wacken Open Air Metal Battle. They have also supported and toured with legendary acts such as Hatred, Islay, Syphor And Sinate and continue to wow and excite audience with an intense live show!
This December sees AXIAL SYMMETRY Launch their eagerly awaited "United Corruption" E.P, the follow up to 2013's critically acclaimed "Nothing Is Left". Also making a very welcome return are Galway's own groove metal machine NEGATIV RESULT,  who play their first Irish show this year! NEGATIV RESULT have made a name for themselves  not only locally but nationally as a force to be reckoned with with thunderous riffs and heavy grooves.
Also on the bill are fast rising Death metal crew JENOVA and local punk heroes PSYCHOPIGS.
This show is brought to you in association with The Cranium Titanium Metal Show on FlirtFM 101.3 and burningmetalirl.com
This event took place on Thursday, 1st December 2016 at The Cellar Bar, Galway .
If you have any video links or photos, feel free to share them below.