Auditory Shrapnel: The Tribesmen Come Out Swinging…
Posted: 24/11/2016 by Philip Morrissey
Change can be a difficult things for many bands to manage successfully. The sound and image that has garnered you a fan-base in the first place may be put off by it. The attempt to reach a new audience might not necessarily work in their favour either. It is a hazardous move for established bands, never mind those on the rise.
Galway natives, ILENKUS, find themselves in exactly that same position on their new E.P. The question is whether this will help them move to a higher level or whether this will the first major set-back in their promising career so far? The band has seen a meteoric  rise over the past few years.  Relentless gigging up and down the country has brought many people on board with them. They absolutely ripped up the main stage at their last Siege of Limerick appearance for instance.  The development in their sound on last album, 'The Crossing', had seen them incorporate post-metal soundscapes and an increasingly progressive feel. In a way, it was reflecting the way that bands such as Mastadon and Intranaut have been going over the past few years.
This is a completely different beast however. The subtleties and nuances that had previously existed have been replaced by something more direct and to the point. Aggression and chaos is the name of the game. According to statements from the band, this set of tracks is designed as a story  of an individual entering dark fantasies whilst in a state of delusion. This is ably demonstrated by the opening track of 'Hunny Bunny'. The length is shortened and the noise is ramped up. The sense of paranoia and pointlessness is brought home to the listener. It is definitely more in the Norma Jean/Botch territory than before. Chris Brennan's vocals have been accentuated on this with impressive results. 'Pretty Secret' slows down the pace radically but remains no less unsettling. Its trundling, stomping nature is carried by a section of groove laden riffs  from Sam Ellis and Josh Guyett. Perhaps the dissonance heard in the music is pointer towards whatever secret the subject desires in this case.  The feedback heavy section around the two minute mark builds up to an increase in the vocals again before leaving in a creepy atmospheric manner.
If you thought the change in tempo was going to continue onto 'Exhume' you would be very much mistaken.  The band hammers up the speed yet again with an introduction that is almost black metal like in its approach. The choral-esque backing brings to mind something deeply evil and nasty. The production must be mentioned here as Aidan Cunningham of Murdock has done a fantastic effort in keeping all the pieces together. Just when you have gotten used to this, spasmodic rhythms and beats turn it on its head. Dillenger Escape Plan have made a habit of it this. The tempo swerves again before ceasing all of a sudden.
The bass and drums, from Rob Van Der Klooste and Rory Guyett respectively, emphasised opening on 'The Romantic' introduces a sneering and then screaming set of vocals.   A malestrom of instruments develops with all members tangled in a furious net of riffs and beats. The clean vocals that appear from there are a mere precursor to the violence that follows it. Yet another example of a switch in the mood patterns.
The listener is left feeling bruised, dazed and bloodied. The sign of whether the band has achieved its goal is upon re-listening. This set of tracks is seriously addictive and I have been spinning it over and over again. Quite where they decide to take their sound to next remains to be seen. Bands like Pig Destroyer have made a habit of different sounds and releases. Hopefully, this will get them serious air-play.
---
Sometimes it is easy to make a presumption about a band on hearing their name before you actually get to listen to them. Many bands from certain genres possess names that may strike as being lazy, cliched or off-putting. Doom and stoner bands can suffer from this to a certain extent. It can seem at times that names are generated involving combinations of certain words without too much thought or imagination going into the whole process. I had been in this consensus regarding these Galweigans until catching them at the Siege of Limerick two years ago and being mightily impressed.
The lads certainly have had an extremely busy year. Sitting around spending their time smoking weed and playing the same note over and over again is just not possible. Constant gigging around the country, both with the slug and with Weed Priest, was added to by them winning the heaths of Bloodstock to the Masses and representing Ireland at the Derbyshire festival. Fans and organisers alike raved about the set they put on. The release of this debut has long been looked forward to. 'Live at the Oaks' provided a tasty little sampler of what to expect and it is back to this studio that they returned for their official debut.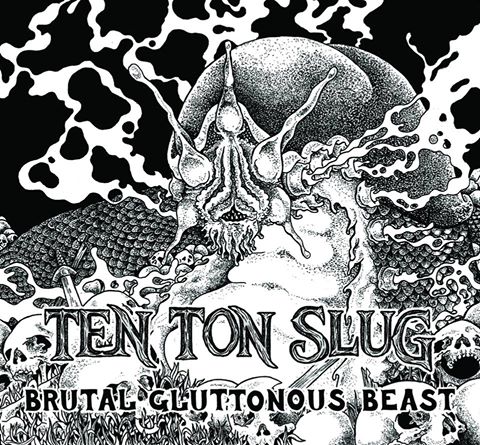 Opener 'Trollhunter', with its dark tale of villagers hunting down destructive trolls, sets out the stall for the band. Might they have taken inspiration from the 2010 Norwegian movie of the same name? It is heavy, chugging and feels thick. It begins with a straight forward heavy riffing intro. It has a Pantera style feel about it at times. The drumming from Michael Sullivan is solid throughout.
'Bloodburns' changes up the style somewhat. It is more of a straight ahead rocker of a tune than the one that preceded it. Probably indebted to C.O.C, Crowbar and other southern bands. There is more emphasis on the groove and the tone rather than the weight of it. It is not to say that there are no moments of heaviness in there. Rónan O' hArrachtáin shrieks and growls to accentuate the sense of fear and panic steadily growing.
Those tracks were the ones included in the 'Oaks' demo. With the newer songs, 'Subterranean' is the shortest on offer. It is also their most direct. It seems to stray away slightly from their standard 4/4 structure to make it stand out that bit more from the rest. Final track, 'Unit', is the main one that hits home in my opinion. It seems to be the last stand of determined fighters against a terrible foe. Interestingly, there seems to be references made to Grendel. Have the band been reading up on their Beowulf? There is definitely more of a dynamic and fresher feel about this one. And the riffs will get you. Sean Sullivan and Adam Trakumas do sterling work together and in isolation.
Certainly a promising opening effort from the lads. Their album has long been on the cards but it looks like there could be action on that in the near future. Hopefully their best parts of from this will be taken and built upon.
Reviewd by Philip Morrissey.