Sunking
Classic Rock / Co. Cork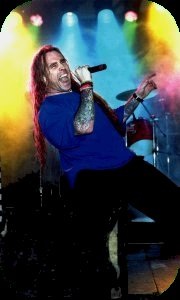 Links
SUNKING were a classic Rock/Metal band who gigged around in the early 2000's. Vocalist Ger "Monkey" O'Keefe and guitarist Owen Leahy were the two mainstays throughout most of the bands existence. They recorded and released only the one 'Fire On The Hill' EP back in March 2000 at Spector Studios Cork with engineer John O'Donoghue and a skeleton crew of the band at the time. Along with Monkey and Leahy, Conor O'Brien was on drums, and the Pascale Lutz was on bass. There was another 'original' guitarist, Gary McDevitt from Donegal, although he didn't feature on the EP. There was a 'single' also recorded later on in 2000, which the band included in their live set for a while.
The line-up that recorded the debut 'Fire On The Hill' EP didn't last too long. Keith McCoy replaced Connor O'Brien on drums a couple of months after it's release and Pascale Lutz left in the middle of 2000 also, leaving the band to host a revolving door of bass players from that point on with Gary Pearson from Cobh being the most regular. McDevitt also left in the middle of 2000. Mark Hickey from Clonmel joined as his replacement but eventually filled the vacant bass slot just so the band could stay out on the road and not have to be auditioning/training guys every week. The band finished up as a 4 piece, playing their last show in January 2002.
SUNKING were a full-time band and practiced every day, full shift. Every session and gig was recorded. They even hired their own sound engineer to do gigs and recorded the shows. There were also over a hundred shows video taped which the band would play back to analyse their performances to see what worked and what bombed. Unfortunately, when we split the entire band archive of videos and demo tapes (200+) were thrown out.
As for other recordings! In early 2001 the band were approached by music writer/producer Andy Reynolds (Ceol Nua Studios) with a view to working together. There's actually a full length album in the can at this place. Which I've been told has a much more 'modern' sheen thanks to Reynold's input, with a lot of the Nu-Metal type elements and flavours of the time compared to the EP, but still steeped in Classic Rock/Metal. Unfortunately! It all fell apart just as something seemed certain to happen and the album remains locked away to this day.
Some years later around 2009/10 Reynolds and Monkey teamed up again to record some of Reynolds own compositions. The project was to be called Monkeytooth and an album recorded which according to Owen Leahy sounded really heavy but the two parties ended up falling out and the album was shelved also!
Monkey also auditioned for Bruce Dickinson's spot in Iron Maiden back in the day. He was brought over a few times with the auditions being held on Steve Harris' estate on a full stage set up and the band hammering away. Monkey made quite an impression and even made it to the very shortlist. But as we all know Blaze Bayley, being quintessentially 'English', got the gig.
Genres
Classic Rock, Heavy Metal, Rock
Members (Current)
Ger "Monkey" O'Keeffe - Vocals
Owen Leahy - Guitars
Keith McCoy - Drums
Mark Hickey - Guitars / Bass
Members (Former)
Connor O'Brien - Drums
Pascale Lutz - Bass
Gary McDevitt - Guitars
Gary Pearson - Bass