Ezy Meat
Heavy Metal / Co. Armagh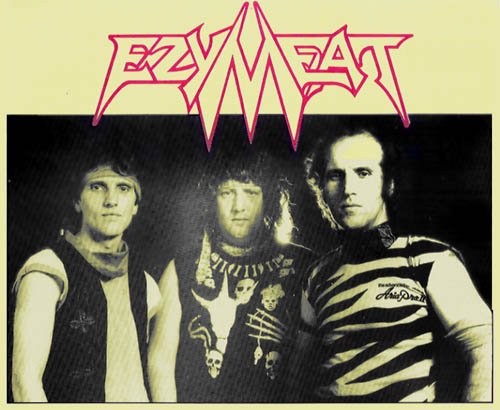 NWOBHM style band from Lurgan, Co. Armagh. Formed in 1980.
Originally a 4 piece. They recorded the 'Makin' Noise' demo in 1980. And contributed 2 tracks to 'Belfast' split album released by Shock Rock Records in 1981.
They became a trio by the time they recorded their debut LP, 'Not For Wimps' in 1984, which was produced by Vivian Campbell(SWEET SAVAGE, DIO, DEF LEPPARD). This was re-released on CD in 2003 with 6 bonus tracks.
They released a second LP, 'Rock Your Brains' in 1986.
They also featured on a number of compilation LPs.
The track 'Massacre' featured on the 1987 "Metal Warriör" Comp-LP.
The track 'Warrior' featured on 1987 "Rock Meets Metal Vol. 2" Comp-LP.
Genres
Heavy Metal, NWOBHM
Members (Current)
Paul Lavery - Vocals/Bass
Ivan Lavery - Vocals/Guitar
Ray McKenna - Drums